2023 Conference
The International Conference on Pluralistic Counselling and Psychotherapy is excited to invite practitioners, academics, and individuals interested in the Pluralistic approach to our annual event. This year's theme is 'Applied Pluralistic Therapy: What are we doing in practice?' and will explore the impact of collaboration and taking our practices beyond the therapy room to tackle societal challenges.
You can find tickets here, along with information about out keynote speakers
And if you want to be involved in presenting, you can find the submission form here
The conference will take place on the 2nd and 3rd of June 2023. The conference will begin on Friday evening at 5.30pm UK time with a 90-minute session followed by some social time. The conference will then continue at 9am UK time on Saturday morning with a selection of workshops, panel discussions, and keynote presentations.
Our aim is to bring together a diverse range of voices to discuss, debate and learn about the latest developments in the field of pluralistic therapy. We believe in creating an inclusive space where all are welcome, which is why we have a self-select fee to ensure everyone who wishes to attend is able to do so.
The conference promises to be an engaging and thought-provoking event, featuring keynote speakers, interactive workshops, and panel discussions. Participants will have the opportunity to connect with like-minded individuals and to learn from leading experts in the field.
We have a self-select fee to ensure we include all those who wish to attend, in keeping with this we would ask that those of you who can afford to contribute do so to ensure we continue to support this annual event.
__________________________________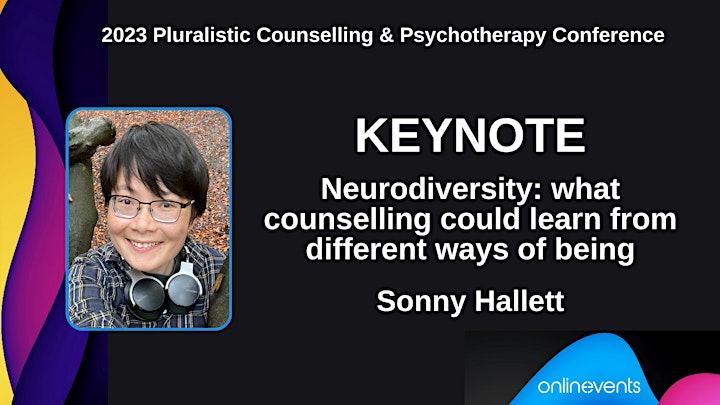 Keynote Details:
Neurodiversity describes the diversity and variation in ways of experiencing and being in the world. Humans are massively varied beings, so why does counselling so often look and feel so uniform? What might counselling look and feel like, if it were to fully embrace our diversity? Sonny will explore some of the ways in which counselling might welcome and be changed by different ways of being, drawing from their own experiences as an autistic person accessing therapy, their work and research within neurodivergent, disabled, and other minority communities, as well as their work as a counsellor.
__________________________________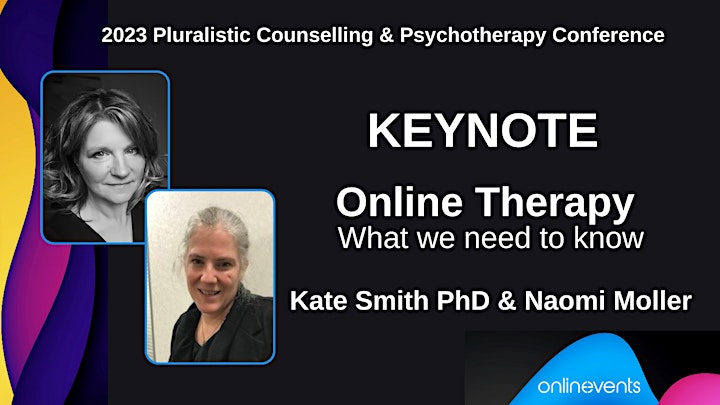 Keynote Details:
Since the wide-spread movement to online platforms for the delivery of talking therapies in 2020, a reliance on practice ethics and standards has been used to support practitioners in navigating this sometimes unfamiliar modality. Despite the apparent success of online delivery in terms of reach, there remain outstanding questions within the evidence base supporting practice in humanistic therapies. This keynote will provide an overview of what we know and what remains unexplored, and will provide attendees with the opportunity to reflect on the costs and benefits of online therapy
__________________________________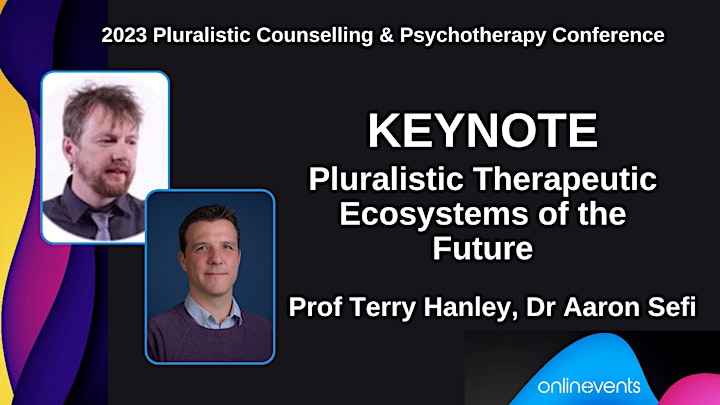 Keynote Details:
How might new technologies change the face of therapy as we know it? Why might pluralistic therapists see themselves at the forefront of such changes? Although we don't have all the answers, we will explore these ideas and speculate on what the future might hold.
We will begin by discussing Kooth, an online therapy and support service for young people that provides a virtual ecosystem of resources, such as therapeutic content, peer forums, and anonymous text-based therapy. We will present research on how users have engaged with this service and made active choices about their care pathways.
Using this real-world example, we will consider how pluralistic therapists could develop their own ecosystems of support, incorporating both new and traditional technologies. We will introduce the concept of a "therapy bundle," which combines multiple resources with therapeutic work. Finally, we will explain why pluralistic therapists are particularly well-suited to this approach.
__________________________________
WORKSHOP DETAILS TO FOLLOW…
__________________________________
This conference will be hosted on the Zoom meeting platform where we will use our camera and microphones to interact with each other as a group.
To support practitioners in this time of extraordinary circumstances we are offering access to this group for a self-select fee.
All the colleagues at ONLINEVENTS and the presenters we collaborate with are committed to working in a manner consistent with the BACP Ethical Framework, which can be accessed on the link below. When registering for this event you are agreeing to be present and interact in a manner that is consistent with this Framework.